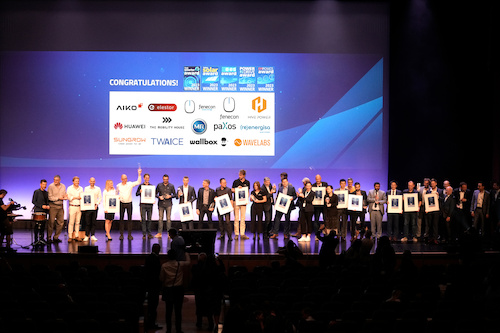 The AWARD is a great way to raise your company's profile, highlight its innovative products and projects, and gain international recognition.
Applications for all categories are welcome from exhibitors of all worldwide Intersolar, ees, Power2Drive and EM-Power exhibitions.
The submission period for the AWARD 2024 will start December 01, 2023 and end March 15, 2024.
About the AWARD
As we move towards a renewable 24/7 energy supply, the market for renewable energies is growing fast, and the electricity, heat and transport sectors are continuing to grow together.
But not just the industry sectors are growing together – the renowned industry award presented at The smarter E Europe will also be merging: From 2024, The smarter E AWARD will be presented in five categories, Outstanding Projects, Photovoltaics, Energy Storage, E-Mobility and Smart Renewable Energy. The industry award thus unites the previous The smarter E AWARD, Intersolar AWARD, ees AWARD, Power2Drive AWARD and EM-Power AWARD.
The smarter E AWARD honors companies whose innovative concepts and technologies make an important contribution to a renewable 24/7 energy supply.
Application 2024 – Your Chance to Shine in the Spotlight
And taking part is more than worth it, as last year's results impressively show. The finalists included major industry players as well as many future-oriented SMEs and start-ups. In the end, many of them were among the winners!
A nomination as AWARD Finalist and Winner brings numerous advantages. Put your own innovative strength in the spotlight and benefit from services such as a comprehensive marketing package.
AWARD Ceremony
This high-caliber event on the eve of The smarter E Europe, Europe's largest alliance of exhibitions for the energy industry, will be attended by exhibitors, representatives and decision makers of the international e-mobility and energy industries as well as trade press representatives from both home and abroad.