Press Release – Thursday, June 13, 2023
Munich/Pforzheim, June 13, 2023 – Maschinenfabrik Reinhausen's FlexNet EkO research project, (re)energisa's clean energy supply project in the heart of the Brazilian rainforest, and the installation of the SIRIUS energy management system at Wallbox Charger's corporate headquarters in Spain: These are the winners in the "Outstanding Projects" category at The smarter E AWARD 2023. The smarter E AWARD was presented at a ceremony along with two other prizes for innovation, the Intersolar AWARD and the ees AWARD, and two debuts: the Power2Drive AWARD and the EM-Power AWARD. The winners and finalists are showcasing their innovations at The smarter Europe 2023 at Messe München from June 14 to 16.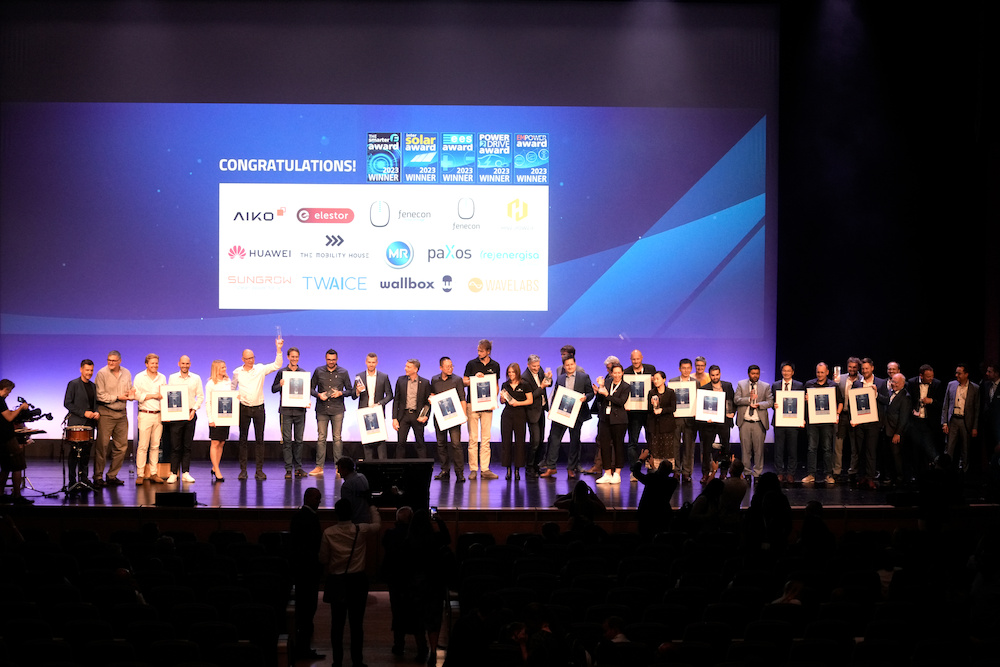 For a sustainable and innovative green future: The smarter E AWARD honors companies with innovative projects that make a decisive contribution to a sustainable energy supply – today and in the future. In a festive setting, The smarter E AWARD recognizes outstanding innovations and achievements. Today, on the eve of The smarter E Europe, the award was presented for the sixth time at the International Congress Center Munich (ICM) to those who are applying their expertise to rethink and reshape tomorrow's energy supply. The Intersolar AWARD and the ees AWARD, as well as the Power2Drive AWARD and the EM-Power AWARD, which will be bestowed for the first time, were awarded at Europe's largest platform for the energy industry, The smarter E Europe. Anyone wanting to check out the award-winning technologies and speak to the award winners and finalists will be able to catch them at The smarter E Europe at Messe München from June 14 to 16.
The winners of The smarter E AWARD 2023
Maschinenfabrik Reinhausen GmbH (Germany): FlexNet-EkO
Maschinenfabrik Reinhausen's FlexNet EkO project in Germany's Bobritzsch-Hilbbersdorf district showcases a pathway to smarter and greener distribution networks. Working with MITNETZ STROM and regional researchers, Maschinenfabrik Reinhausen demonstrated how grid operators can incorporate larger shares of renewable energy, stabilize voltage and frequency, and enhance overall grid function. The system combines batteries with power electronic grid connection and grid-forming inverters to decouple and optimize low-voltage grids. This approach is also faster and cheaper to deploy than network and transmission upgrades, accelerating the grid integration of solar, wind, and EVs. The jury particularly praised the smart concept and the project's potential to overcome hurdles on the way to the new energy world.
(re)energisa (Brasil): Vila Restauração – Amazon Microgrid: Clean and reliable energy for all
The Vila Restauração Microgrid is (re)energisa's pioneering clean energy project in the heart of Brazil's Amazon rainforest. Through this initiative, families that received just three hours of electricity from diesel generators a day now enjoy 24-hour renewable energy at 60 percent lower costs. The microgrid comprises a photovoltaic installation with a capacity of 325 kilowatts (kW) and a lithium-ion battery system with a capacity of 829 kilowatt hours (kWh). In addition, it has 4G internet, wireless smart meters, biogas plants and two backup generators powered by regionally produced biodiesel. The system provides around 1,000 community members with reliable, clean energy and is to be deployed across the entire Amazon in the future. Our panel of judges praised the microgrid's sustainable, user-friendly design and ability to improve lives while preserving the Amazon rainforest.
Wallbox Charger (Spain) Sirius by Wallbox
Wallbox has reshaped how companies generate, store, and use electricity. At its Barcelona headquarters, Wallbox installed its SIRIUS energy management system as a greener and cheaper alternative to upgrading its network infrastructure. Using data analytics, artificial intelligence (AI), and internet-of-things technology, SIRIUS integrates the power grid with its distributed energy resources. It combines a fleet of 23 Nissan Leaf electric vehicles with bi-directional charging, a 400-kilowatt photovoltaic installation, and 560 kilowatt-hours of on-site battery storage. In 2022, Wallbox was able to reduce its CO2 emissions by 73 metric tons and its energy bills by over 40 percent. In addition, SIRIUS enabled cost savings of half a million euros compared to grid expansion through the flexible and intelligent design of the decentralized energy sources.
For more information, please visit:
www.TheSmarterE-award.com
www.intersolar-award.com
www.ees-award.com
www.powertodrive-award.com
www.em-power-award.com