With about 28,000 visitors from 29 countries, The Smarter E South America once again proved that it is the largest exhibition and conference for the South American solar industry. More than 250 exhibitors attended the event, providing the latest trends to industry specialists, investors, and project planners over the course of three days.

Development of The smarter E South America
Within the last years the renewable energy market in Brazil showed a strong development. This is reflected in the growth of The smarter E South America.
Visitors at The smarter E South America 2021
In 2021 – despite the Covid-19 pandemic – around 28,000 visitors from 29 countries took part in The smarter E South America. The top visitor countries following Brazil were Germany, Spain, the United States, Argentina and Paraguay.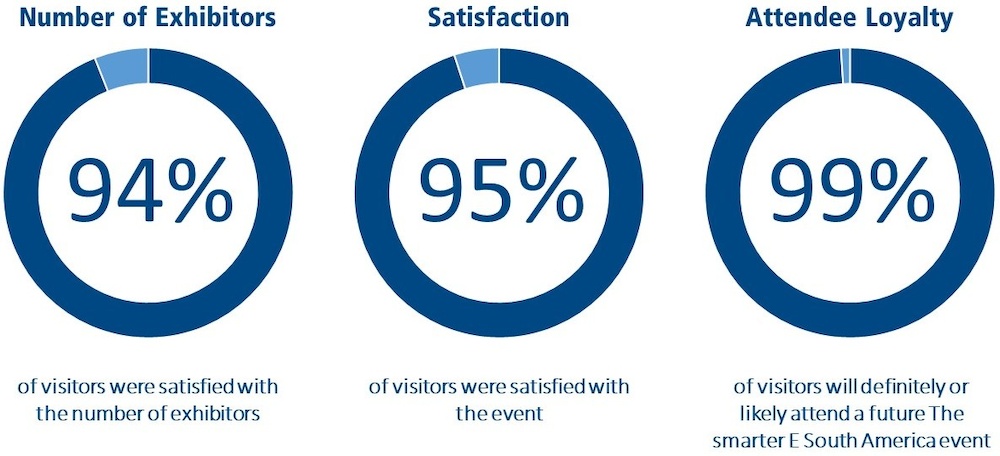 Exhibitors at The smarter E South America 2021
More than 250 exhibitors presented their products and solutions. 76% of them were from Brazil, 23% of them were international. Intersolar South America was the biggest of the three parallel events hosting 200 solar providers followed by Eletrotec+EM-Power South America with 52 providers and ees South America with 37 providers.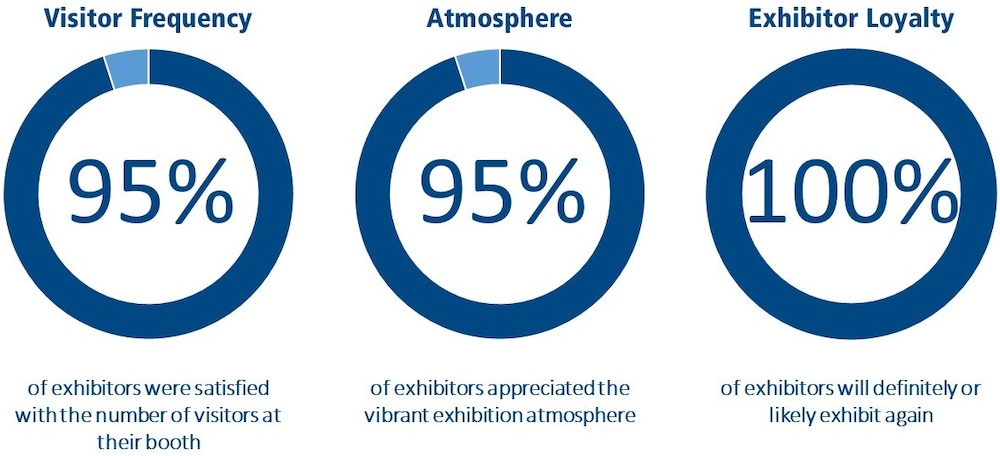 The exhibitor loyalty is verified by the rebooking numbers. Not only did 65% of the 2021 exhibitors already book a booth for 2022, the space booked exceeds the total area of the previous year due to a substantial number of enlargements.
Exhibitor Voices
"SMA is positively impacted by the number of people at the event and the qualification of this audience. We believe that Brazil is embarking on what I call "Solar Energy 2.0", which is a new phase of development with high quality."
André Gellers, Country Manager at SMA
"Of all the editions we participated in, this was the one that surprised me the most, it shows how much people are interested in solar energy. The event has a very qualified audience, our clients are closing deals here, and that is very good."
Martin Drope, CEO at K2 Systems
"This fair represents a resumption of events, with intense movement, very beautiful and well organized, showing an increase in relation to the previous edition, so we are very satisfied."
Gustavo Müller Martins, General Director at Renovigi
"BYD's participation in Intersolar 2021 was a real success. We were able to show an extremely qualified audience all our news and solutions aimed at sustainability, and we are sure that it was a great opportunity for us to close new deals."
Adalberto Maluf, Marketing and Sustainability Director at BYD
Conference
The Intersolar and Eletrotec South America Conferences featured 60 sessions and workshops dedicated to the latest trends, developments and innovations in the solar, energy storage and energy infrastructure and management industries. More than 1,500 attendees took the chance to learn from more than 110 speakers and to network with industry peers. For the first time a live conference streaming was offered to those who could not travel to Sao Paulo because of the Covid-19 pandemic.
The five best attended sessions were:
1. Discussion with State and Municipal Representatives – How to Increase Solar PV in their Regions?
2. Official Opening
3. DG PV Innovation and Business Models (powered by Instituto IDEAL / OCB)
4. Fotovoltaic Installation Norms
5. Free Market – The Business Models for PV Projects (powered by Greener)
Press & Media
52 journalists from 30 accredited media joined The smarter E South America. 380 articles (online and print) as well as TV comments (e.g. CNN Brasil) reported about the event. On Facebook, Twitter and Instagram The smarter E South America shared information with its followers before, during and after the event.
Sometimes pictures tell more than thousand words... Have a look at the image gallery or the Intersolar, ees, Eletrotec+EM-Power or special exhibition Power2Drive South America show video.